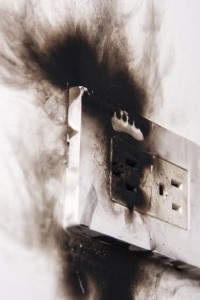 Between 2007 and 2011, the National Fire Protection Association (NFPA) reports that 13% of all home fires were the result of electrical issues, including cooking equipment, heating equipment, and electrical distribution or lighting equipment malfunction. Every year in the United States there are more than 25,000 reported electrical fires, resulting in greater dollar loss per fire than nonelectrical fires, as well as the deaths of over 1,300 people, according to the U.S. Fire Administration. But perhaps what is most shocking is that most, if not all, of these fires could have been prevented.
The Top Ways to Prevent Electrical Fires, According to Angie's List
Do-it-Yourself Inspections
Periodically inspect your appliances and other electrical equipment for signs of wear and tear, such as frayed, tattered, or worn out cords and wiring. Such cords can overheat, spark, and cause fires.
It is also important to check your electrical sockets from time to time to make sure they are not overburdened. This happens when you plug too many appliances into a single outlet. Instead, invest in power strips equipped with internal overload protection. This is a much safer option.
Keep Flammable Items at a Safe Distance
You should always, always, always keep flammable items – such as blankets, towels, rugs, etc. – away from space heaters, irons, hair dryers, and even lamps. And never hide cables (especially extension cords) under rugs or carpets. These cords can easily overheat and start a fire.
Hardwired Smoke Alarms
In the event of an emergency, time is of the essence. You rely on your smoke alarms to warn you of impending danger. But these simple safety devices cannot do their jobs when their batteries die. And when was the last time you tested your smoke alarms? Hardwired smoke alarms, meanwhile, run on your home's electrical system, and have battery backups that operate in the event the electricity is not working. Click Hereto learn more.
Professional Inspection and Maintenance
As the old saying goes, it is better to be safe than sorry, especially if you own an older home.  Okay, so we might have added the last part, but that doesn't make it any less true. It is important to periodically inspect and service your electrical equipment, as well as the wiring your home. And despite your prowess as a do-it-yourselfer, it is probably (more like definitely) best to hire a professional electrician.
To help keep up with such maintenance, TriStar Electric offers a residential electrical maintenance contract that will help ensure your electrical system is safe and in top working order. Keeping a system maintained reduces unnecessary wear and tear on equipment, and cuts down on electricity bills.
And did we mention that TriStar Electric is an Angie's List member? Click Hereto read our reviews.
If you are interested in learning more about TriStar Electric, please contact us by calling 410-799-5791 or 301-384-8880 or fill out the contact form on our website. Our electricians will answer your questions and provide you with expert advice. We are available during normal working hours, and service most parts of Maryland, Washington, DC, and Northern Virginia.
You can also follow TriStar Electric on Facebook, Twitter, Google+, LinkedIn, Pinterest, Instagram, and YouTube.
Source:
5 ways to prevent electrical fires, Angie's List