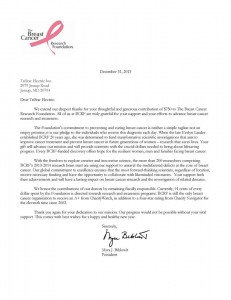 Do you remember the Facebook campaign we ran last year where we donated $1 to breast cancer research for every new like we received on our Facebook page? We recently received a letter from The Breast Cancer Research Foundation (BCRF) thanking us for our generous donation.
"We extend our deepest thanks for your thoughtful and generous contribution of $750 to The Breast Cancer Research Foundation," writes BCRF President Myra J. Biblowit. "All of us at BCRF are truly grateful for your support and your efforts to advance breast cancer research and awareness."
We at TriStar Electric just wanted to take a moment to thank our Facebook fans and readers for their continued support! It is because of you that we are able to make donations to great organizations like BCRF.
Thank You!
About The Breast Cancer Research Foundation
Breast cancer is the second leading cause of cancer death amongst women, behind only lung cancer. It is the mission of BCRF, an independent 501 (c) (3) not-for-profit organization, to achieve prevention and a cure for breast cancer in our lifetime by providing critical funding for innovative clinical and translational research. To date, BCRF has raised over $450 million!
At this time there are about 2.9 million breast cancer survivors in the United States!
About TriStar Electric
More than 20 years ago, two qualified, experienced electricians set out with one goal: create a company that delivered professional electrical services to clients and educated them about the best lighting and electrical choices for their home or business. That company is TriStar Electric.
Based in Maryland, we provide professional electrical and lighting services, from outdoor lighting to under cabinet lighting and smoke alarm installation. Our goal is to provide the right lighting and electrical solution for your project.
The TriStar Electric team is professional, friendly, and ready to answer any of your questions!
Please contact TriStar Electric by calling 410-799-5791 or 301-384-8880 or fill out the contact form on our website. Our electricians can provide you with a competitive quote that covers every stage of the process – from installation to final testing.
You can also follow TriStar Electric on Facebook, Twitter, Google+, LinkedIn, Pinterest, and YouTube.