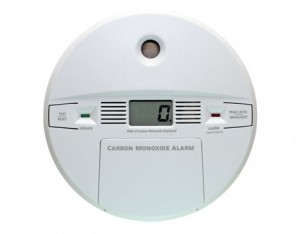 Carbon monoxide is an odorless, tasteless, and invisible gas that results from the incomplete combustion from any non-electric flame fueled device: ranges, ovens, clothes dryers, furnaces, fireplaces, grills, space heaters, vehicles, and water heaters. Carbon monoxide is also the leading cause of accidental poisoning deaths in America, according to the Journal of the American Medical Association. This is why it is so important to install a Carbon Monoxide Detector on each floor of your home and outside of each bedroom. These detectors should be placed on a wall about 5 feet above the floor. A carbon monoxide detector triggers an alarm, similar to a smoke detector, when it detects an accumulation of the colorless, odorless gas.
Tip: Make sure your carbon monoxide detector is loud enough to wake you.
If you hear your carbon monoxide detector go off, gather all of the members of your household and go outside immediately. Do not linger in the house for any reason. When outside, ask each person if they are experiencing any of the symptoms of carbon monoxide poisoning: shortness of breath on mild exertion, headaches, nausea, dizziness, mental confusion, and fainting on mild exertion. Carbon monoxide poisoning can result in permanent brain damage and death. If anyone is experiencing any of the previously mentioned symptoms, call 911.
Carbon Monoxide Detector installation around Baltimore, Maryland
Here at TriStar Electric, we have been installing hardwired carbon monoxide detectors throughout Maryland, Washington DC, and Northern Virginia for several years. Let us help keep you and your loved ones safe. Give us a call today and we will send one of our electricians out to visit your home and provide a thorough inspection of your home.
If you are interested in having carbon monoxide detector (s) installed, TriStar is here for you! Our electricians can provide you with a proposal that ensures your home and family are protected, while staying within your budget.
If you have any questions about our blog, "Carbon Monoxide Detector installation around Baltimore, Maryland," please contact TriStar Electric, Maryland's premier residential and commercial electrician, by calling 410-799-5791 or 301-384-8880 or fill out the contact form on our website. You can also follow TriStar Electric on Facebook, Twitter, Google+, LinkedIn, Pinterest, and YouTube.